10 Funny Valentines Day Pranks To Ruin Your Relationship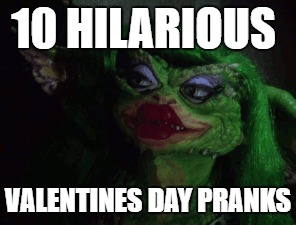 Trying to be romantic can be quite the challenge for people — even if it's just for one day out of the year. To make this Valentine's Day unforgettable, avoid the cheesy cards, the fancy restaurants and the fattening boxes of chocolates, and instead pull a few Valentines Day pranks on your partner. These hilarious valentines day pranks, taken from the depths of the Internet, are sure to surprise your partner more than a weekend trip away to a romantic city.
The pressure of Valentine's Day can get to couples, and many choose to forgo the holiday of love all together. To make things a bit more fun, Jimmy Kimmel issued a challenge for men to give their wives or girlfriends something terrible for Valentine's Day in 2013 (as if guys need an excuse!). Videos flooded into YouTube of bugs inside chocolates, rings on fake severed fingers, and kidney stone engagement rings. Many of the pranks were so disgusting or disturbing that I thought, "Surely, we can do better!"
So ladies, this Wednesday the 14th February 2018, let's fight fire with fire. Let's prank them where it hurts! This isn't Valentine's Day anymore — it's Prankentine's Day and we are gonna serve up some piping hot payback. Check out the list of easy tricks below and you'll have Cupid laughing his diaper off. Just don't prank your bae too hard… I don't want to be responsible for any breakups, please.
Welcome to the 10 best Valentines Day Pranks Ever 
1. The Stinky Flower
Be the one to give your bae flowers this year! For this easy valentines day prank all you need is an attractive bouquet of flowers, and a smelly spray such as "Fart Spray" or the unfortunately named "Liquid A**". Spray each flower individually (you might want to wear dish gloves as to be careful not to get any of the spray on your hands or clothes). After, make the flowers presentable again by putting them in a vase or rewrapping them. When you give your partner the lovely gift and they put their nose in the flowers to sniff them there will be a smelly surprise.
Get this hilarious valentines day prank from the link below
2. The Romantic Sloppy Kiss
Next time you're cuddling with your cutie, and the mood is getting romantic, go in for a loving kiss. When your bae closes their eyes, instead give them a big lick up and down their face. Tasty! #valentines day pranks
3. The Great Font Switcheroo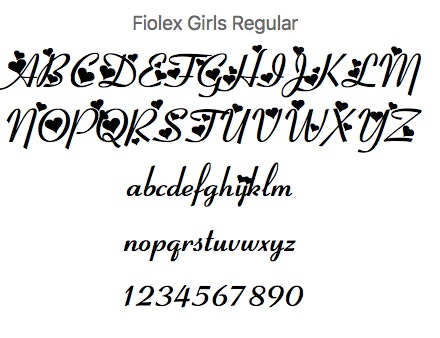 If your partner leaves their laptop lying around then it's time for a little holiday hacking! Download a specialty font — something obnoxious, perhaps where the letters "i" and "j" are dotted with hearts. Install the font file in the system's collection, and set it as the default font for the Internet. This is one of the funniest valentines day pranks, and will leave them scratching their heads trying to figure out what happened. It is so much more creative then just changing their screensaver to be weird pictures of yourself — though you might as well do that too while you're at it!
4. The Busted Breakfast
Volunteer to make a "special" breakfast to celebrate this Valentine's Day. Prepare a normal bowl of cereal for your boo complete with milk and a spoon, then put the whole thing in the freezer the night before. Make "fresh squeezed orange juice" by combining a packet of the cheese mix from boxed macaroni and cheese with water, then stir or blend the mixture. Serve the cereal with the "orange juice" to your baby in bed. When they take a sip their face will be priceless — though they may never trust you in the kitchen again.
5. The Not-So-Sexy Striptease
Get your partner in the mood with a seductive striptease. Put on some smooth jams, and LOTS of layers. I'm talking layers on layers. A few spandex jumpsuits underneath don't hurt either. The strip tease will take so long, your bae will probably fall asleep before the end. #funniest valentines day pranks
6. The Meaty Cupcake
If you want to give your sweetie something sweet this V-Day, here is a valentines day prank sure to tickle their taste buds! Switch out your traditional cake batter for a meatloaf mix. Bake the mixture in cupcake tins and let cool. Cover in traditional icing and sprinkles (or take it up a notch and swap in toothpaste in place of the icing). These cupcakes will have quite a strange flavor — though somehow I feel like Guy Fieri would approve. You can even leave some meatloaf cakes unfrosted to enjoy by yourself later!
7. The Chocolate Syrup And Whip Cream
If you want to get frisky between the sheets, try spicing up your average chocolate and whip cream. If you secretly empty all the whip cream cans before you guys get down to business it will frustrate to no end. And when your buddy goes for the chocolate syrup, replace the liquid beforehand with non-toxic fake blood for a scary syrup-prise.
8. The Hair-Raising Wakeup Call
This prank is not for the faint of heart: while your lover is sleeping peacefully, don a terrifying clown mask. Subtly go in for a snuggle, gently waking them. You can set up your phone to record the whole thing in the morning light. Their terrified reaction will be a gift to yourself this Valentine's Day.
9. Name A Roach After Your Bae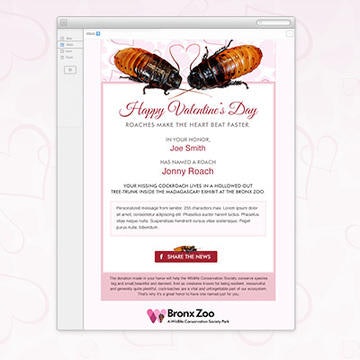 Who knew the perfect present could be found at the Bronx Zoo? Show how much your bae means to you by naming one of the zoo's Madagascar hissing cockroaches after your cutie. You get an official certificate and even some chocolates for that perfect romantic touch!
10. My Screamy Valentine
For this simple and easy prank all you need is a recordable Valentine's Day card. Instead of recording a sweet message, just scream into it. When your bae opens their valentine, your blood-curdling screams will fill the air and their heart.
If you loved these 10 funny valentines day pranks. them share our post or comment
Images: pexels, DaFont, howtoPRANKitup/YouTube, howtoPRANKitup/YouTube, giphy, BronxZoo  
Credit Bustle.com
(Visited 599 times, 1 visits today)