Toilet Darts Play While You Sit
Amazon.com Price: $12.80 (as of 08/04/2022 08:41 PST- Details) & FREE Shipping.
Introducing toilet darts!

While nature takes its course improve your darts score and dexterity.  Never be bored sat in the bathroom ever again with this amazing and hilarious way to kill time.
Description
Welcome to Toilet Darts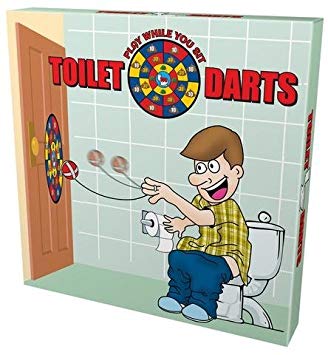 Have you ever been bored sitting on the toilet wishing you had something to do to occupy your mind while nature takes its course?
Toilet Darts Play While You Sit. Kit comes with 1 Dartboard, 3 Darts with approx 86 inch string and a Do Not Disturb Sign.
Toilet Darts
Play While You Sit
One kit per package

(Visited 326 times, 1 visits today)
Additional information
| | |
| --- | --- |
| Binding | |
| Brand | |
| EAN | |
| EANList | |
| ItemDimensions | 1100, hundredths-inches, 1100, hundredths-inches, 41, Hundredths Pounds, 250, hundredths-inches |
| Label | |
| Manufacturer | |
| ManufacturerMinimumAge | |
| MPN | |
| PackageDimensions | 252, hundredths-inches, 1213, hundredths-inches, 50, Hundredths Pounds, 1193, hundredths-inches |
| PartNumber | |
| ProductGroup | |
| ProductTypeName | |
| Publisher | |
| Studio | |
| UPC | |
| UPCList | |