Sale!
Funny Giant Vomit Prank
$11.42 (as of April 20, 2020, 6:30 pm)
Description
Funny Giant Vomit Prank
Are you looking for a funny prank to play on your friends? then check out this giant vomit prank.  Designed to look like real and stinky barf, it is guaranteed to get people squirming and even barfing up the real stuff themselves.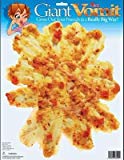 Giant Vomit From Loftus, a tradition of mirth and amazement since 1939!

So. don't hesitate. get this fake giant vomit prank now and see their hilarious reactions
(Visited 47 times, 1 visits today)