Donald Trump Talking Pen
Own your very own Donald Trump talking pen. In Donald Trump's Actual Voice it says "You're Fired" – Put "The Donald" To Work For You -it makes a Funny Office Prank or Christmas gift.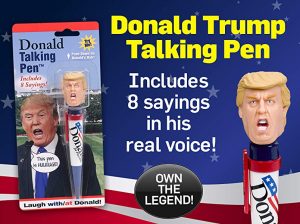 Let Donald Trump Make Your Pen GREAT Again!
This highly collectible Donald Trump Talking Pen features a beautifully sculpted head that captures "The Donald" in all his glory. The pen says 8 different lines in Trump's real voice:
1. "I don't wear a toupee. It's my hair. I swear."
2. "We will have so much winning if I get elected, that you may get bored with winning."
3. "I will build a great, great wall on our southern border. And I will have Mexico pay for that wall."
4. "Look – I'm REALLY rich."
5. "I will be the greatest President that God ever created."
6. "Our leaders are stupid. Our politicians are stupid."
7. "I love China. I just sold an apartment for fifteen million dollars to somebody from China."
8. "I think I am a nice person. People that know me, like me."
When you play this hilarious Donald Trump Talking Pen for friends and family, you'll be the center of attention. Just like Donald! Simply press down on his famous hair and he'll tell you exactly how to make America great again!
You'll be totally blown away by this high quality donald trump taking pen and its amazing sound quality of this pen! An awesome collectable gift for the politically minded.

(Visited 40 times, 1 visits today)