Life Size Donald Trump
$34.99 – $39.99
Description
Life Size Donald Trump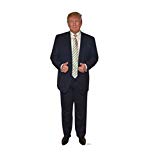 Are you looking for a prank, gag or practical joke to really impress your friends. then why not get this life size Donald Trump statue. 
This is a lifesize cardboard cutout of the current US Preseident; Donald J. Trump.Mr Trump is not your ordinary run of the mill politician and that's part of what makes him great! This iconic business man doesn't sugar coat anything and sticks up for the "little people".
Show your Trump pride and help "make America great again" with a life size donald trump cardboard cutout of your favorite President today! Size is: 74″ x 26″.
MADE IN AMERICA: Proudly Manufactured In The USA. HIGH QUALITY: Advanced Graphics Produces The Highest Quality Cardboard Standups And Custom Prints In The World.
100% SATISFACTION GUARANTEE: We Put Our Customers First And Will Continue To Provide The Best Customer Service To Those Who Keep Us In Business.

(Visited 332 times, 1 visits today)